Timothy Osborn and Keith Briffa have a new paleoclimate reconstruction coming out in tomorrow's Science with a familiar shape but an interesting new twist: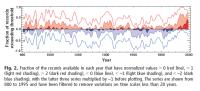 One of the difficulties in thinking about the various hockey stick-shaped paleoclimate reconstructions, (and by "difficulties" I do not mean the distracting food fights, entertaining as they may be update: let the food fight begin) is that the approach used boils them all down to a single number. That tells you something about overall averaged surface temperatures, but not about spatial extent.
Osborn and Briffa have attempted to rectify that with an index that looks at 14 separate proxy series spread across the northern hemisphere, to try to get a feel for how widespread warming was at various times. They create an index that sums up sites that are above or below normal in temperature relative to the long term mean. It's an attempt to do with some rigor what Soon and Baliunas did in a qualitative fashion in a widely discussed paper three years ago.
Their conclusion:
The most significant and longest duration feature during the last 1200 years is the geographical extent of warmth in the middle to late 20th century. Positive anomalies during 890 to 1170 and negative anomalies during 1580 to 1850 are consistent with the concepts of a Medieval Warm Period and a Little Ice Age, but comparison with instrumental temperatures shows the spatial extent of recent warmth to be of greater significance than that during the medieval period.
(update 2: The paper is now up, and Mike Mann has useful discussion at RealClimate)