More than halfway through our winter precipitation season, the snowpack is pathetic and the runoff forecasts dismal.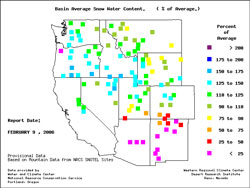 (courtesy Western Regional Climate Center)
Tania Soussan has more in this morning's Journal (sub. req.):
Several places set new record lows for snowpack as of Feb. 1.

The forecast calls for spring river flows to be 27 percent of average in the Santa Fe River, 40 percent in the Rio Grande near Española, 25 percent into Elephant Butte Reservoir, 30 percent into Santa Rosa Reservoir and 53 percent into Navajo Reservoir.

And if near-normal or greater rain and snow doesn't materialize this month— something that appears unlikely— the runoff forecasts will drop again March 1.

Armijo said the stage is set for what could become a record low winter for rain and snow.