Forgive me, Dano, for again have I sinned.
For it is written in holy book of cycling:
When the grapes hath been made wine and the leaves doth fall, thy big chain ring shall be even an abomination unto you; ye shall not eat of the temptation of the hammer, but ye shall have thy big chain ring in abomination. Neither shalt thou ride with fast paceline in thy big ring as with thy small ring: it is abomination.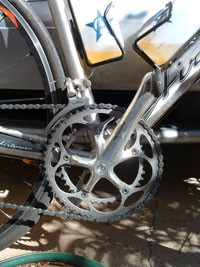 It's Feb. 1, right? I mean, I know I'm supposed to be doing E2 in Zone 3 or some wacky training book shit like that. But sometimes you just get rolling and the big ring's just sitting down there, begging for some action.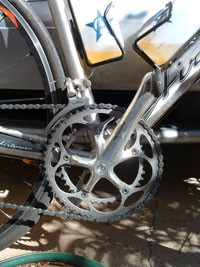 Truth be told, I've been spending a lot of time in the big ring this winter. The conventional cycling wisdom is that you spend the winter riding at low aerobic levels and high cadences, building a base. That means using the little gear on the front. But I've realized, especially since the knee surgery threw me off the bike last year, that it's mostly really about play, and sometimes that means go-fast 'cause it's fun. I'll no doubt pay the price for poor training practicies, but whatever. At my best I'm a pretty lousy bike racer anyway. It's all about the fun.