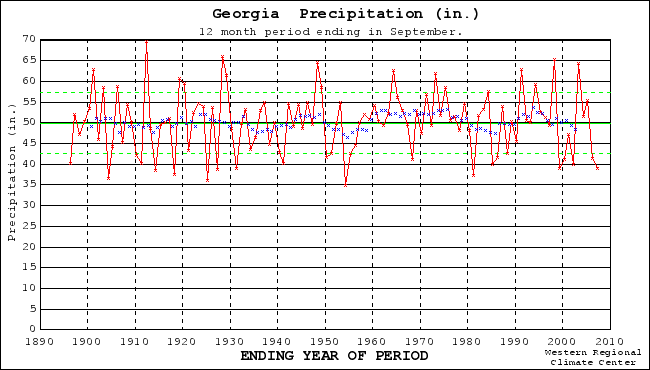 We've got a full-on water war brewing down in Georgia right now, pitting states against one another (Georgia v. Florida), state against the federal government (Georgia v. Army Corps of Engineers) and endangered species against growing cities (Atlanta et al. v. mussels and sturgeon).
It's worth stepping back a moment and considering the underlying definition of drought. For practical purposes, all it really means is less water than you've become accustomed to, or come to depend on to meet your needs. 39 inches (100 cm) of rain in a year would create disastrous flooding where I live, but in Georgia (that's the statewide average over the year ending Sept. 30) it's a disastrous drought.
But the graph I've included above suggests that there may be more to the story. Look at the period from 1990 to 2000. You can see that they had just one seriously dry year. The rest of the time saw either average or above average rainfall. And what happened between 1990 and 2000? According to the U.S. Census Bureau, the Atlanta metro area population grew 38 percent.
If you look back over the long term record (the graph above is from the Western Regional Climate Center), you'll see that on a number of relevant time scales – one year, two, five, ten – Georgia has regularly seen "droughts" of this scale.
If you can't handle events within the normal range of variability, you're screwed.
Further reading: