Chris Brooks notes the good news:
Lake Mead is finally beginning to climb.
At this writing, its surface elevation is at 1082.30, after dropping below 1082 during the last week of November. And DG points us to some other good news.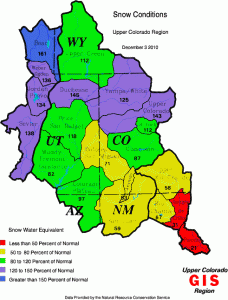 That's snow pack as of Friday in the Upper Colorado River Basin. Those of us down in New Mexico, dependent on the San Juan and Rio Grande, are sucking wind, as you can see. But much of the basin looks dandy! (And a huge thanks to DG. I'm always looking for good at-a-glance graphics for tracking snow pack. Consider that one bookmarked and shared.)
Lake Powell finished November with 14.9 million acre feet of water, slightly lower (60kaf) than the projection in the most recent 24-month study and 200kaf lower than in the August 24-month study, which is the one used for planning purposes.