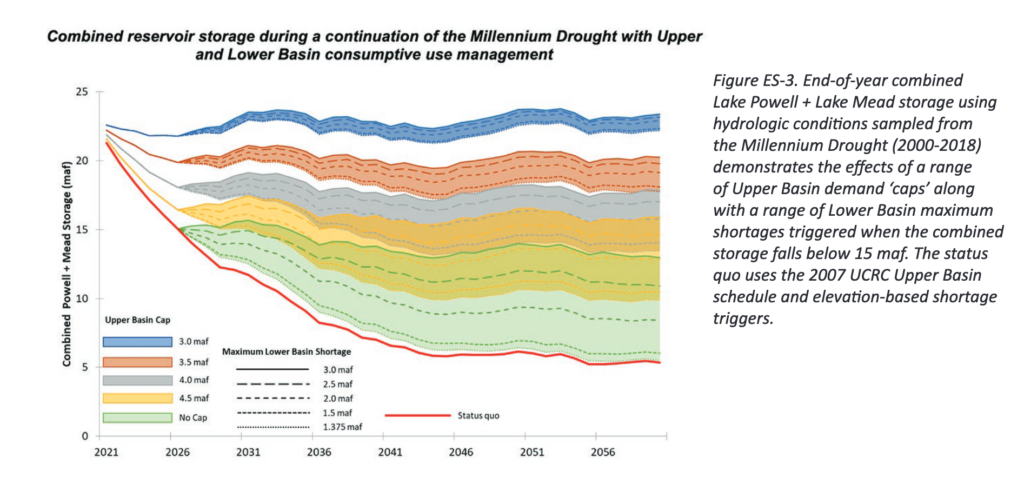 Stabilizing Colorado River reservoir levels under even moderate drought/climate change scenarios will require deeper water use reductions than basin managers have to date been willing to contemplate (at least publicly), according to a new analysis by researchers at the the Futures of the Colorado River project, based at Utah State.
Led by highly respected veteran Colorado River modeler Kevin Wheeler, the team ran sophisticated new climate and river flow data through the computer modeling tools used by basin managers to try to answer basic questions about how various possible policy interventions might play out as climate change depletes the river.
Among their key findings: Under a relatively optimistic scenario (things don't get any drier than they've been in the first two decades of the 21st century), stabilizing the system would require:
The Upper Basin to not increase its uses beyond its current ~4 million acre feet per year of water use.
The Lower Basin to adjust to routinely only getting ~6 million acre feet of water.
So how do those numbers compare to current use and policy discussions?
Recall that the Colorado River Compact "promised" each basin 7.5 million acre feet per year. The Upper Basin water users since the late 1980s have averaged about that 4 million acre foot number, but with aspirational plans to take more. The Lower Basin water users have been reducing their use from the allowable 7.5maf, using 6.9maf on average over the last five years.
So to balance things out, Upper Basin use can't grow, Lower Basin use needs to shrink. More thank it already has.
Remember that's the optimistic scenario. Under plausible climate change scenarios, the cuts would have to be deeper.
The results are, in some sense, unsurprising. We know that if there's less water, people will have to use less water. And the best science, combined with the last two decades' lived experience, suggest we've got less water to deal with on the Colorado River.
What's great here is the details – a credible incorporation of the best climate science into the current Colorado River Basin policy framework, with an analysis done using CRSS, the modeling tool the management community uses to think about the Colorado River. This report, in other words, is written by a team deeply fluent in the language of Colorado River management.
The USU team has put together a nice executive summary of their findings, and the full report is here.
(Disclosure: I am an uncompensated member of the project's advisory panel, but I didn't play any active role in the report's preparation beyond a lot of chit-chat with report co-author and my longtime collaborator Eric Kuhn as the work was being done.)