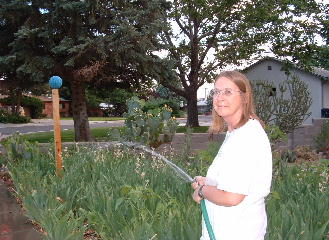 That's a blue bowling ball on the left, a thrift store finial for Lissa's free stuff sign post.
She's been on a garden thinning tear, and as she trims cactus or thins the iris bed, she puts out a sign that says "Free Cactus" or "Free Iris" beneath the bowling ball and sets the plants out on cardboard flats by the curb.
They go. They go fast.
She's been doing this for years, and we now see our distinctive purple iris all over the neighborhood. This year she's been seriously whacking back the cactus, and she's become sort of a Lissa Cactusseed for the neighborhood. As I pulled in last night, a guy from up the street followed me up the driveway, his back of groceries in one hand and a flat of prickly pear paddles in the other. "So you just stick these in the ground?" he asked. "Yup," I said. "Just stick that bottom end in and they'll grow like crazy."
I hadn't met him, but Lissa recognized him. He lives a block up, the guy who last year had this perfectly charming fountain made of a euphonium (or was it a baritone?). Seems the perfect home for our cactus.