It's hard to pick a good ball cap. I don't wanna sound all touchyfreaky, but it's like they pick you.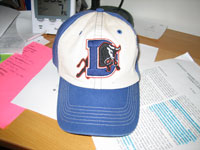 At any given time, I've always got a favorite ball cap, the one I want to grab when I go for a walk on a sunny day, or when my hair's all bad hair day and I need to go out in public. The classic, which set the standard, was an old green cap from McPheely's Tavern in Walla Walla. "Relax Freely at McPheely," it said, and had an inscription in pen from Nietzsche (you know the one) under the bill. It was lost after a particularly memorable game of Ultimate, and all attempts to replace it came up short.
Most recently it's a cap from the Philadelphia Museum of Art with Paul Cezanne's signature as a logo. I was in need of a new ball cap, and the Cezanne called out at me from the museum gift shop: "Hey, if you're gonna shill for someone with a logo cap, shill for someone good!"
The baseball fairy heard that in May, my path will cross that of the Durham Bulls, and bade me be properly prepared. The fairy also sent a program. You can't tell the players without a program.