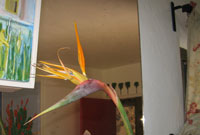 The house I grew up in had a beautiful bird of paradise in the front yard. I took it, like much that surrounds us as children, for granted (water to the fish), but in retrospect I recognize it as the most beautiful plant I've known.
Last Monday, at Albuquerque High School's graduation, each student was handed a bird of paradise, the class flower of the graduates of 2006. The flowers seemed somehow unwieldy piled up in on a table to the left of the stage, neat and orderly but not quite matched, very much like the rows of students in their green caps and green gowns – neat and orderly, but not at all matched.
I did not expect the emotions I felt as I watched Nora pick up her flower, and the bird of paradise is the least of the thing. But I will let it stand in for something richer and more complex and difficult to articulate, and say simply that it adds a fond touch.