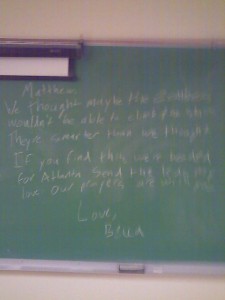 Seen on a University of New Mexico blackboard last night in an empty classroom. Kinda tough to read, so I'll transcribe:
Matthew –

We thought maybe the zombies wouldn't be able to chase us up the stairs. They're smarter than we thought. If you find this, we're headed for Atlanta. Send the kids our love. Our prayers are with you.

Love,

Becca
Sorry for the poor quality of the picture – a quick snap from a cell phone. Seemed best not to hang around too long.