Mill Creek is a bit of a cipher as it slips through Walla Walla.
Flowing out of the Blue Mountains, it is the southeast Washington town's primary water supply, and its geographic organizing principle. But the "creek" itself, as it flows through the town built on its banks, is confined to a concrete channel, in some parts of town an ignored back alley sort of thing, elsewhere roofed over completely by the buildings of downtown.
When I came here in the fall of 1977 to attend Whitman College, my friends and I immediately found it, though, out the back door of Anderson Hall where we all were scared and excited youngsters in equal parts eager and terrified by this new step in our lives. We'd hop down the wall and walk downstream late at night, slipping beneath downtown in the darkness and out toward the fields on the west end of town.
I've written since about how, whenever I go to a new place, I end up going down to its water – a bay, a beach, a river, a concrete creek. At risk of a post hoc reconstruction of the meanings of my life, it occurred to me as I returned this week to Walla Walla for the first time in years that Mill Creek must be the place where this started.
I was staying at the Marcus Whitman downtown – just offices and residential apartments when I lived here four decades ago, now an upscale hotel catering to wine tourists. When Lyman Persico, a Whitman College geology professor and my host for a few days' visit to my alma mater, dropped me off Sunday afternoon, I dumped my bags and headed for Mill Creek.
One of my great joys has always been walking around, aimlessly, and it occurred to me that Sunday afternoon as I retraced the steps 18 and 19 and 20 and 21-year-old me walked so very many times that this joy is rooted here. It was a happy place, and I thoroughly enjoyed visiting with 20-year-old me. I'm not that person any more, but I liked meeting him again after all these years.
During some of the down time between my visits to Lyman's environmental studies classes, I rented a bike to increase my range, visiting all the places I lived – two dorms, a lovely apartment building up Boyer Avenue, and a shitty old rental house on Rose Street that has not worn the subsequent 40 years as well as I have.
I felt lost sometimes, my mental map ripped with holes, some because of a changed landscape, much because of my own hazy memories.
I turned to my cell phone to find my way to the Washington State Penitentiary, on a hill west of town. It was a gut check moment as I wheeled onto the state highway that leads to the pen and saw the big water tower.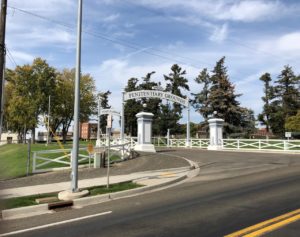 I was, I think, just twenty when I first visited the place.
I'd been working weekend shifts at a local commercial radio station, "adult contemporary" soft pop. It was a small operation, but made a pretense of covering the local news. There had been a riot at the penitentiary, and I got a call from the station asking if I could go cover the warden's news conference.
It was a big deal. The networks had crews there. It was national news.
I was a long-haired punk (in the Ramones sense of that word), and the thing I remember most is when a guard stopped me, leaving after the news conference, to make sure I wasn't escaping. I couldn't have understood the importance then, but it was my first act of paid journalism.
A couple of years later, I ended up as "news director" at the same radio station, barely more than minimum wage, but it was an act of becoming – becoming a real, paid journalist. And I covered the state pen.
Thus, here, it all began.